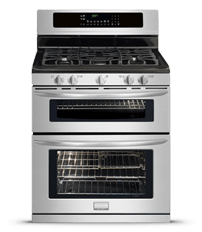 Do It Yourself Range_Oven_Repair
Do It Yourselvers:  Bring Your Heating Elements to us for testing.
We Test Oven Heating Elements, Surface Cooking Elements for free at our Service Center
How To Replace Many Oven Elements: 
Most Importantly Disconnect the Electrical Power to the Oven .
Use a flashlight if needed to see clearly the inside rear wall of the oven. Remove the oven racks. The old element is held in place by a 1/4″ sheet metal screw on each hinge plate on the element. Remove these 2 screws. Slowly pull the old heating element out of the oven, once you see the wires connected on each end of the element, pull the element a inch or 2 more. Slide the 1/4″ wire spade connector off each end of the old element, careful not to let the wire draw back into hole. Remove the old element from the oven.
Place the new oven element on the oven floor. Slide the 1/4″ wire connectors onto each end of the new oven element. Push the new element into the 2 holes the old element came out of. Install the 2 sheet metal screws you removed earlier. Reapply the electrical power .Turn the oven on and allow the new element to heat up . A small amount of smoke may come off the surface of the new element, this is common, not a indication of a problem. If the element becomes red hot, turn the oven off and reinstall the oven racks and feel the satisfaction of repairing your own oven.
Our Tips Are Meant As Universal Suggestions For the Mechanically and Electrically Inclined Individuals USE Them At Your Own Risk.